FREE Detailed Assessments
Get it done right the first time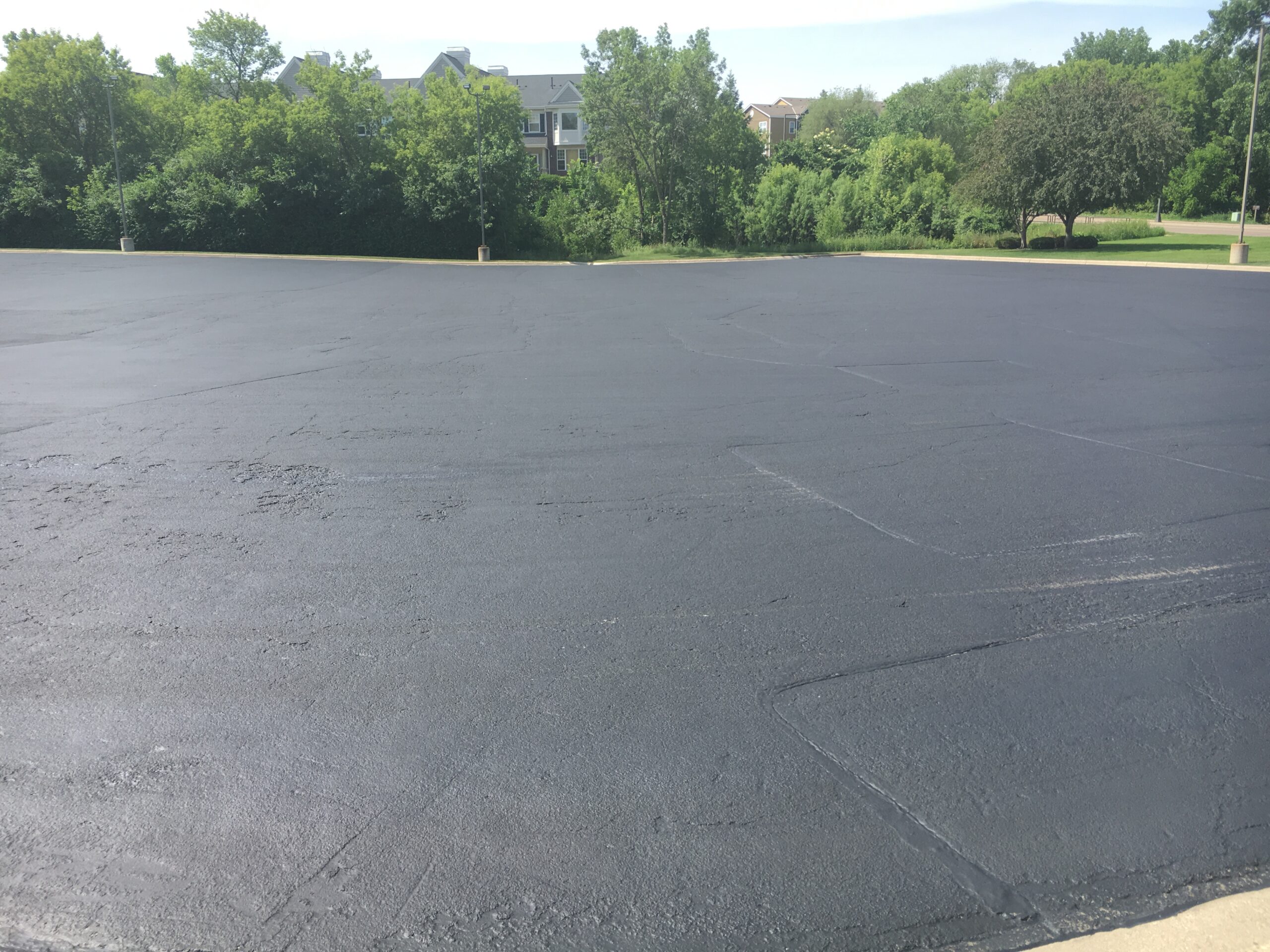 Your asphalt surfaces take a constant beating from daily traffic, gasoline and oil leaks, rain and snow, and the brutal Minnesota freeze-thaw cycles. The sun creates a dramatically harmful effect on the asphalt by increasing the oxidation rate through its' UV rays and creating a weak and brittle surface. These conditions can aggressively break down the chemical bonds in your asphalt.
This is why Sealcoating is a HUGE benefit to the longevity of your asphalt surfaces and dramatically reduces these harmful effects. When the product is correctly mixed and applied, it acts as a barrier over the asphalt surface, preventing harmful damage. This is a preventative measure and should be applied every 2-4 years, depending on traffic levels and the age of the asphalt.
Look At Our Process To Provide A Beautiful Looking, Long-Lasting Sealcoat
At Duramax, we pride ourselves on making sure each step is correctly completed to ensure that beautiful sealcoat finish – every time!
It is important to prime all oil spots with a special asphalt priming product prior to applying the sealcoat product. The primer provides an effective protective layer keeping the oil contaminant from coming up through the cured sealcoat finish. If not addressed, over time, the oil spots will soak into the asphalt wear surface, softening the binders and creating a soft surface that will unravel and be exposed to water invasion into the sub-base. It is a good practice to address oil spots early before they become damaging to your asphalt surface. A simple solution is to use warm water and detergent and give the area a good scrubbing. If oil spots become too severe, the only long-term solution is to remove and replace the area with new asphalt.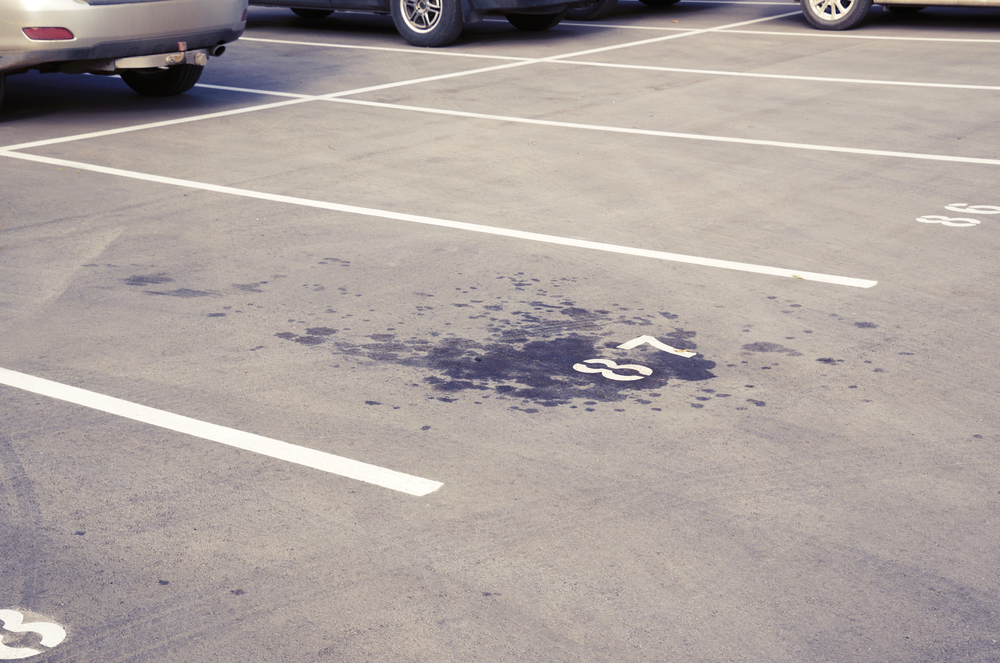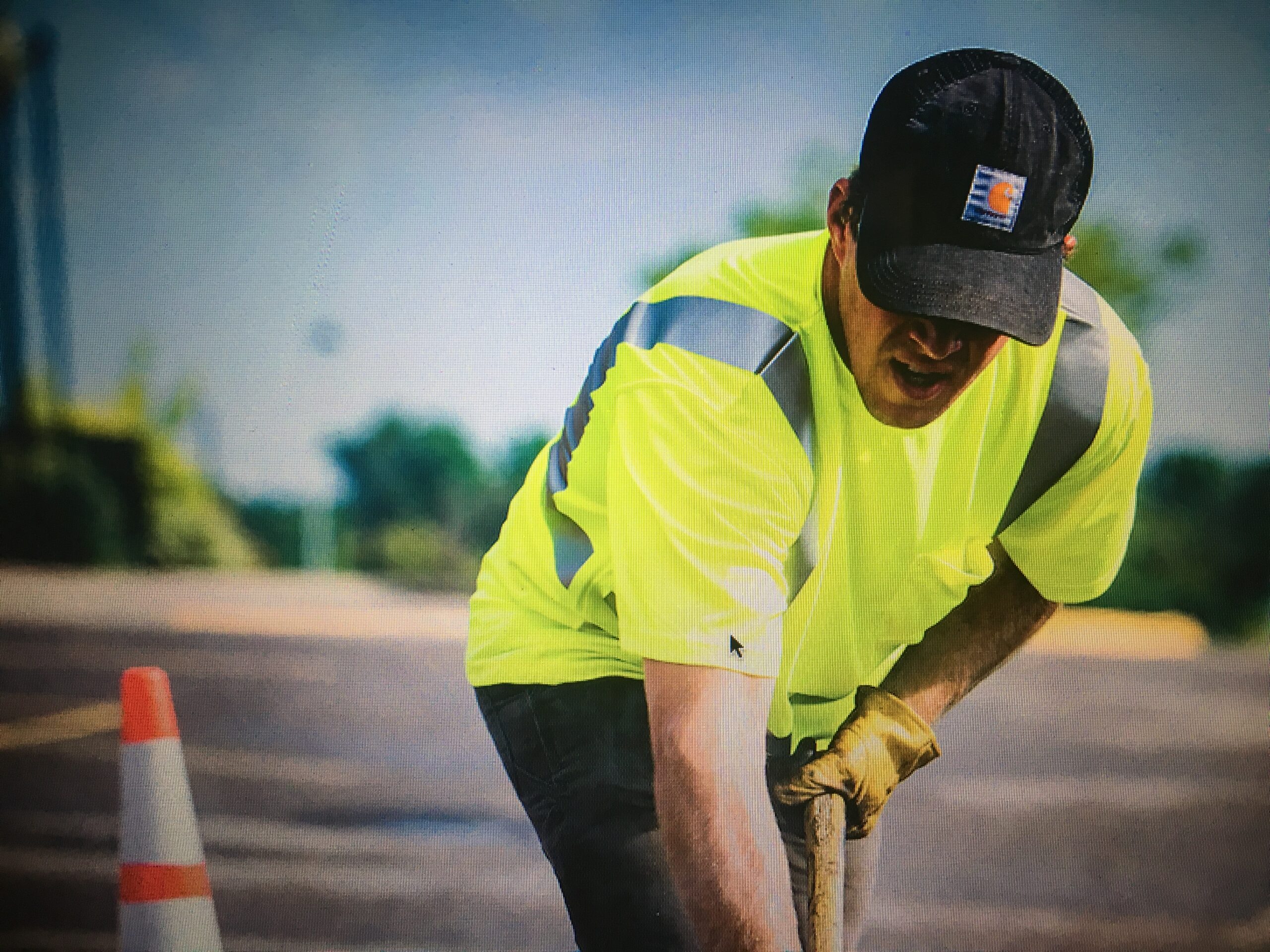 The biggest part of a long-lasting good sealcoat is how well the surfaces are cleaned. Sealcoat will stick to the first thing it touches. If there are fine dust and dirt areas that are not cleaned with a wire brush or an abrasive cleaning machine, these areas will fail very quickly. We focus extra cleaning attention on low spots (birdbaths), high traffic areas, and catch basins and manhole covers. These areas are susceptible to more embedded dirt and dust due to water flow and high traffic rates. We also ensure curbs and gutters are blown cleaned, and all vegetation is trimmed back to eliminate any contamination during sealcoat application, and it provides a clean aesthetic finish. A DETAILED cleaning is the foundation to a LONG-LASTING sealcoat. 
An important step in our sealcoat process is completing a detailed brushed edging of the entire perimeter. This ensures that no over-spray of sealer occurs on any concrete surfaces or curbs. This step can be time-consuming, but it emphasizes our attention to detail and provides a clean, beautiful sealcoat finish. Before this step is completed, we make sure all pending weather is considered. We will assess rain and overcast conditions before any sealer is applied and communicate concerning scheduling.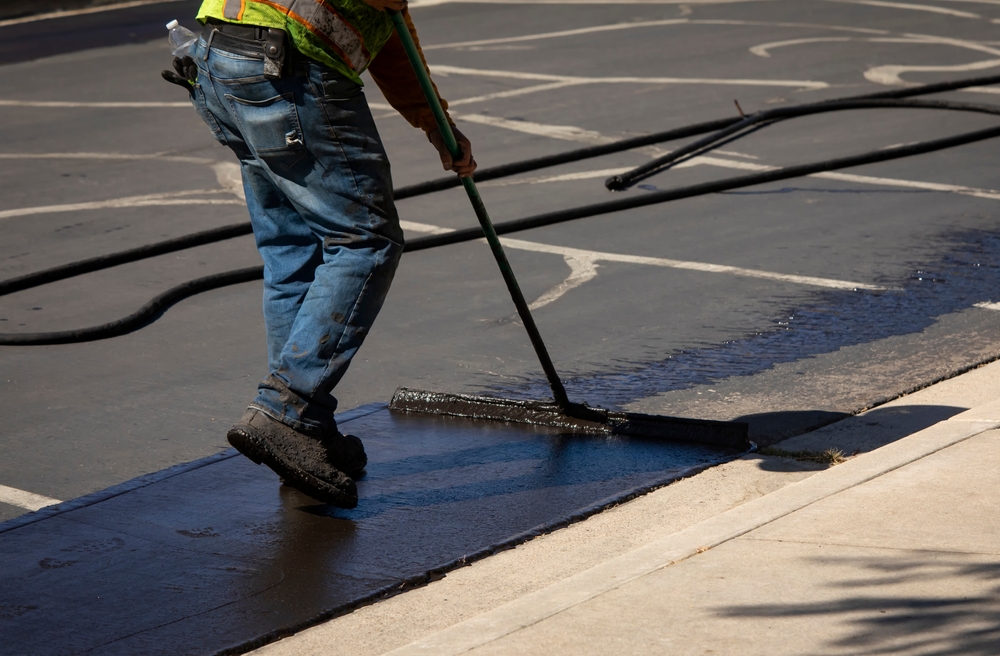 Once all edging is completed, we apply the sealcoat product with a spray wand or spray rig, depending on the size of the job. We apply a light first coat and allow adequate dry time before the second coat application. We apply a thicker second coat to ensure all areas have enough coverage and an even finish. Once both coats are applied, we will keep up cones, tape, and barricades for the duration of the cure time. Manufacturers' recommendation for cure time is 24-48hours. We highly recommend at least 24 hours of cure time.
Your parking lot surface is preserved and looks great! It is a great first impression to your customers and provides the message of professionalism and attention to detail. The sealcoat product protects your asphalt surface from oxidation by UV rays, traffic flow wear and tear, oil, gasoline, and salt deterioration. Along with a fresh sealcoat, we complete a new striping layout to provide maximum usability of your parking lot and to ensure all ADA compliances are met. When all steps are completed correctly, and the seal coat product has the proper mix designs, your parking lot will have a beautiful, protective coating that will last 2-3 years.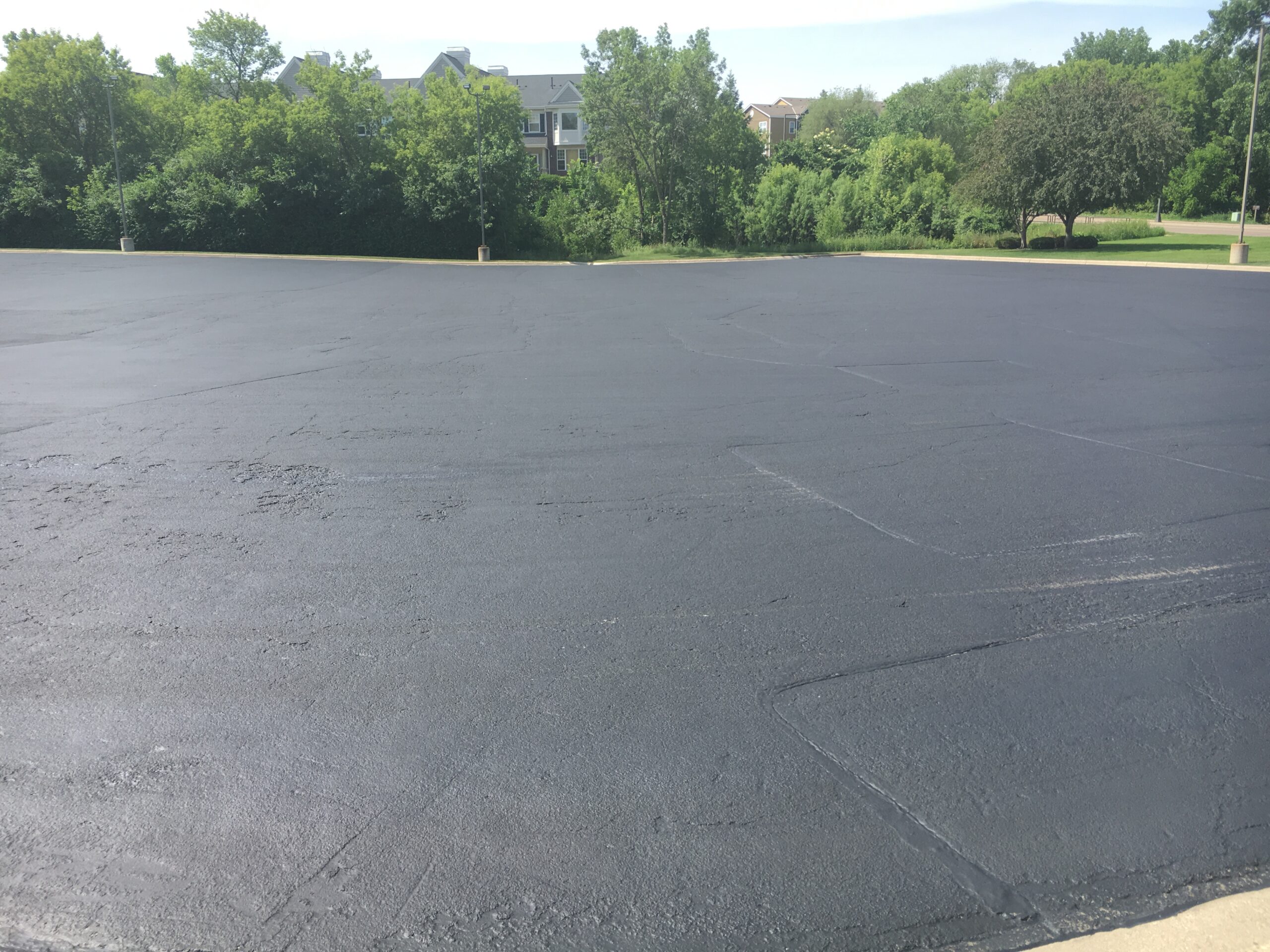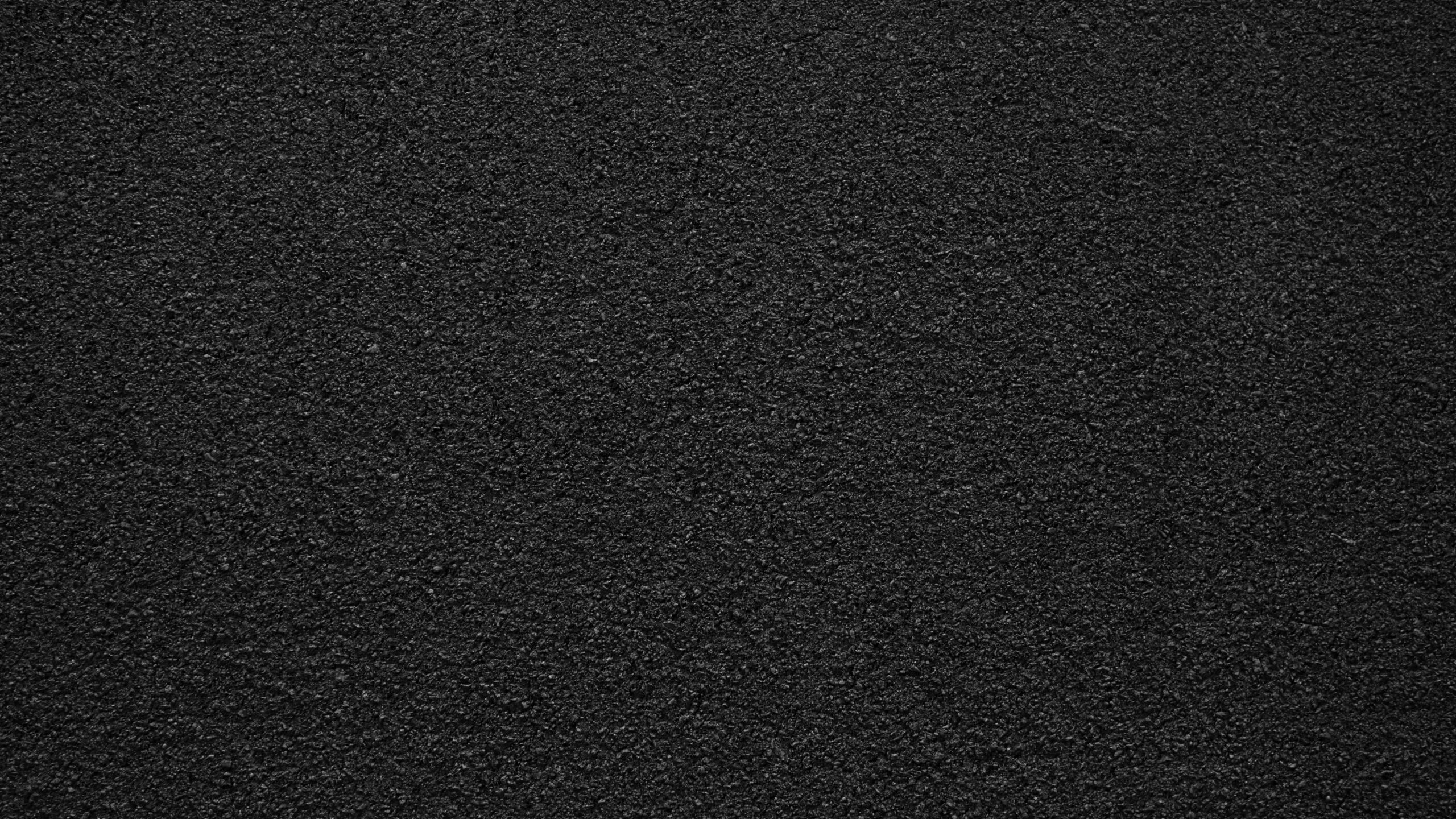 To achieve that beautiful finish is one thing; it's another to provide a long-term beneficial product. We distribute and apply the best product in the sealcoating business. This is done by only selling and applying a sealer with the correct amount of water and sand. This provides the correct mix design every time. The sand additive is designed to improve traction, skid resistance, and longevity. It also blends minor surface defects and provides a repair of hairline cracks. The sand gives the sealer a uniform textured appearance, sun glare reduction, and a streak-free finish. Adding the correct amount of water is important to a balanced mix design. Water is added to provide proper fluidity to the sealer. This will provide the right flow and leveling characteristics to spread the sealer over the pavement surface evenly.